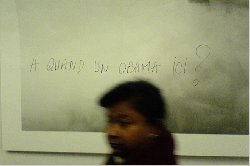 For French minorities who watched the rise of Barack Obama to the presidency of the United States, it certainly looks that way. His election was equivalent to "the fall of the Berlin Wall times 10," in the words of France's Senegalese-born human rights minister, Rama Yade.

Here, the sons and daughters of immigrants — squeezed under a political glass ceiling that hangs even lower for minorities now than it did after World War II — are chafing against a political system that hobbles their ambitions.

A few days ago, the French-American Foundation brought three members of Obama's campaign team face to face with 60 of them in a workshop organized for the sharpest young leaders from minority backgrounds in France.

Participants like Mams Yaffa, 32, who advises minority candidates seeking a toehold on the bottom rung of power, believe that a French Obama will not emerge for another 20 years.

"We need a generation to disappear," said Mr. Yaffa, born in Mauritania, who was defeated as an independent candidate in municipal elections in 2002. "We are all in our thirties," he added, "and the people in politics today are the same ones as when we were born."

Their frustration stems not from an electorate open-minded enough to vote in a gay mayor of Paris, they say, but from their own political parties, whose lack of transparency is a tool that the old guard uses to retain its grip on power.
Armed with demographic analyses and spreadsheets, the Democratic Party pollster Cornell Belcher, its communications chief, Karen Finney, and Penny Lee, a lobbyist, sought to inspire and empower the French attendees by focusing on the practical minutiae of Obama's journey to the presidency.
Ms. Finney told the participants, all aged from 20 to 40, that American parties also had "an entrenched status quo" that made it difficult for non-established candidates to gain traction. "Political parties," she said, "have a responsibility to ensure that good talent rises through the system."
Just how little minority talent is rising through French political ranks is obvious in statistics released by the Institut Montaigne, a French research center that examines issues of social mobility.
Data it published earlier this year reveal the French governing class to be whiter than its electorate: Of the 555 deputies elected to the National Assembly from metropolitan France, just three are from minority backgrounds. There are four out of 310 senators.
France does not keep ethnic statistics. But Michele Tribalat of its National Institute of Demographic Studies estimates that a quarter of France's 64 million people have foreign origins.
"We have European, local, and legislative elections, but we don't have one mayor from an ethnically diverse background in any French town with a population of more than 10,000," said Eros Sana, a workshop attendee and parliamentary attaché for Jacques Muller, a senator from Alsace.
The parties' lack of commitment to their minority members, furthermore, has pushed France backward even in relation to its own history.
"Half a century ago, the chamber was more representative than it is today," said Yazid Sabeg, the Algerian-born businessman named France's "diversity czar" by President Nicolas Sarkozy in December.
In the postwar years, French colonies like Algeria, Madagascar and Senegal, all considered part of France before independence, sent representatives to a French National Assembly that in 1945 had at least 45 members who were born in its overseas territories. The roll call of deputies who joined the house that year included Léopold Senghor, who later became president of Senegal, and Felix Houphouet-Boigny, who became president of Ivory Coast. Others came from Cameroon, Morocco, Sudan, Tunisia, Togo, Polynesia and the Caribbean.
Gaston Monnerville, the Guyanese-born grandson of slaves, spent 40 years in France's lower and upper houses, including a decade as president of the Senate.
In 1959, Nafissa Sid-Cara of Algeria became the first female member of government in France's fifth republic, and the first Muslim woman to hold French government office.
In an interview, Mr. Sabeg said that the single most serious brake on the advancement of French minorities today was the practice of accumulating elected offices, with politicians allowed to hold local and national posts concurrently. The custom hits young politicians particularly hard, since it denies them opportunities for building experience in office.
Their situation is compounded by the absence of party primaries, with candidates selected instead "on the basis of alliances, networks and intrigue," according to Mr. Sabeg. That disadvantages minority politicians, who lack the contacts of those who have passed through the elite colleges that forge the French governing class.
"We need a real democratic process within the parties," Mr. Sabeg concluded, without minimizing the resolve of vested interests to keep those "locks and blockages" in place.
President Sarkozy made some effort to correct the balance by appointing three women of immigrant descent to his first cabinet: Rachida Dati and Fadela Amara, alongside Ms. Yade.
But their record has disappointed some members of the young generation, who say they lack clout among their political peers because their power was not acquired through election. Their gains, they say, are neither lasting nor anchored, and will change nothing for those coming behind.
Mr. Belcher, the Democratic pollster, reminded participants in the workshop that President Obama himself was "never the conventional party elder's candidate, never conventional wisdom's first pick," and that he had had to find strategies to turn his outsider status to advantage.
"He did come up in the system, but he also had to buck the system along the way," Mr. Belcher told the audience, many of whom have made it to municipal councilor level, and fear that they won't get beyond it.
"Political power, no one gives it to you," said Olivier Falla Etzol, 35, a Guadeloupe-born management consultant and campaigner for Jean-Claude Beaujour, a black politician for the governing UMP. "It's this generation's responsibility to take it."
By
CAROLINE BROTHERS
,
New York Times