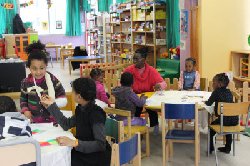 By Caroline Trouillet , africulture.com
If the French language has long been a building in France , an emerging consensus around the recognition of multilingualism as an asset . Field , associations campaigning for valuing the diversity of languages ​​in the French society , from the benches of the school. From one language to another ( DULALA ) , located in Montreuil , is one of them. Through workshops, games and language awareness , training and conferences, she educates parents, children, professionals and institutions in the advantages of multilingualism uninhibited .
Saturday morning , in the heart of the city of La Noue , the toy library social Guy Toffoletti center comes alive with sounds Soninke . Since November , every Saturday , dads and moms Bagnolet and Montreuil ( Seine -Saint- Denis ) entrust the host Mama Doucouré their toddlers for two hours of play in Soninke language. Aged two to ten years , children listen quietly Mama recite a rhyme by heart then hum the chorus. The actor of this story is a plush named Khalifa , meaning " trust ." This mascot occupies a key role in the workshop in turn , each child takes home Khalifa . The following Saturday, it recounts the adventures of lint during the past week. This ritual is a way to cross the universe and the family workshop to link the French spoken at the school and the Soninke family nest. A concern at the heart of pedagogy DULALA , association initiated these fun workshops mother tongue .
Mother tongue, a breeze ?
For children operating in a bilingual environment , these groups of games exist in fourteen languages, including English, Spanish, German as well as less valued in school and sign language languages, the Hebrew and most recently Arabic, Berber and Soninke . The West African community is particularly active in Montreuil where identified no fewer than twenty different nationalities. "We realized that children could speak Soninke with adults , never them . It offers them a space where they can take pleasure in speaking the language of mom and dad with their buddies. Spaces must be opened where language can flow between the domestic sphere and other spheres , "says Anna Stevanato . Linguist created DULALA Association in 2009. Mother of two Franco-Italian children, she herself grew up " bilingual upset ." " I was raised by my grandparents who spoke Venetian dialect not recognized in Italy. I grew up with a sense of shame . Then I realized that it was very difficult to transmit their language to their own children, because if Italian is now recognized in France , this was not the case there is a number of years. "