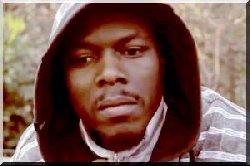 Mauritanian rapper Yimbi Kumma born in Selibabi and installed in France , out of the woods by publishing in next April 's first album called " xide " ( Nostalgia ) . Several artists collaborating on this recording project .
Thus, the RFI Discoveries Award finalist in 2009 , we find Cheikh Abdoulaye Ndiaye said Bakhan in the title " Idaga " ( They left ) or Lassana Hawa " Andutu " . The album also contains Egotrip , including " Yimbi Kuma " and " Duo " with recorded Saranoro , Julien and Kissi .
In this album, he heard his furious way and his personal disappointment that " France (which ) is not that ( he ) expected ," said Yimbi Kumma also advocated in this production consists of ten tracks the awakening of consciences.
Papa Coulibaly Hamady , better known under the name of Yimbi Kumma ( flame of fire in Soninke ) , sewed his album with a writing that defends " the poor who are the right , too, to have happiness and love "in the title " Miskinaxu " .