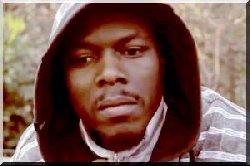 Mauritanian rapper Yimbi Kumma born in Selibabi and installed in France , out of the woods by publishing in next April 's first album called " xide " ( Nostalgia ) . Several artists collaborating on this recording project .
Thus, the RFI Discoveries Award finalist in 2009 , we find Cheikh Abdoulaye Ndiaye said Bakhan in the title " Idaga " ( They left ) or Lassana Hawa " Andutu " . The album also contains Egotrip , including " Yimbi Kuma " and " Duo " with recorded Saranoro , Julien and Kissi .
In this album, he heard his furious way and his personal disappointment that " France (which ) is not that ( he ) expected ," said Yimbi Kumma also advocated in this production consists of ten tracks the awakening of consciences.
Papa Coulibaly Hamady , better known under the name of Yimbi Kumma ( flame of fire in Soninke ) , sewed his album with a writing that defends " the poor who are the right , too, to have happiness and love "in the title " Miskinaxu " .
In this album, Yimbi Kumma allows some freedom for your corrosive through the title "feudalism" that tackle "Soninke feudal" who do not want to give way to this "new generation uninhibited" it embodies itself.
In the title "Corruption", the young rapper denounces moral decay in the Mauritanian political spectrum. "I want to tell people not to get carried away with the money of candidates, but to make a good choice they will not regret insists Yimbi Kumma. Politicians still do not honor their commitment." A wise ...
Babacar Ndiaye by Baye
Source: Cridem.org