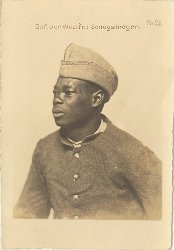 By Souaibou FOFANA : "I decided to write this text because I noticed during my research that the family does not know almost everything of course this son , teenager party and found himself in a situation that the lead in the French trenches during World War 1939 - . 1945 He died there alone, away from his family. "
Thank Armelle Mabon historian , author , among other things : POWs " natives" , which I've been pushed and provided really essential documents
It is these stories that can not be reported without a big share of emotion.
The tragic events that occurred during the first and second world war have affected many families in Soninke community. But some were able to properly mourn their dead and their extinct , others, however , unaware of the fate which had been their son went to war and never came back . The absence of probative information from the front or different theaters of operations and administrative bungling are the main causes.
Among these African soldiers forgotten , figure a man Yeli Samba Touré TIMERA . On some documents about it is mentioned that he was born in 1917 instead of 1911 Gaizu instead of Yaféra and his family he died in Bordeaux instead of Lanmary Dordogne . All this conflicting information , products official documents of French archives, have thus contributed to the distress of the family, long held in the uncertainty as to the truth about the fate of Yeli . However, its history is still more extraordinary .
Yeli Touré was born in 1911 in the village of Yaféra, Department of Bakel, Senegal. Deriving from the Diabékara and family Modinkani Diabéka clan, he grew up in Soninke country, in a family of 17 brothers and sisters. He received an education of all there was traditional and was instilling core values ​​of respect, solidarity, dignity and courage. Son Samba Touré TIMERA and Dieneba Simbara Moorish origin, his father, stern and uncompromising man, was village chief from 1910 to 1943 are 33 years of power.