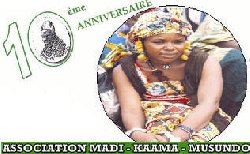 Mémoire en anglais sur la contribution de l'association "Madi-Kaama-Musundo" dans la promotion de la langue Soninké dans la région de Kayes.
THE CONTRIBUTION OF "MADI-KAAMA-MUSUNDO" ASSOCIATION TO THE PROMOTION OF SONINKE LANGUAGE IN THE REGION OF KAYES
The association "Madi-kaama Musundo" is an organization devoted to local development.
From its creation-April 1997-today, it has extended its intervention on all the sub – region: Mali, Mauritania and Senegal. Members of the association are always trying to extend it towards Gambia and Bissau Guinea.
The Association Madi-Kaama Musundo has progressed due to:
Its great capacity to mobilize people particularly Soninke in Mali, Mauritania and Senegal, through the different festivals organized annually in Kayes City;
Its great experience of rural animation and its attachment to citizenship meaning and freedom of speech through three radio speaking emission by week .This emission is animated in the FM station of Rural Radio of Kayes, giving the floor to "voiceless persons"